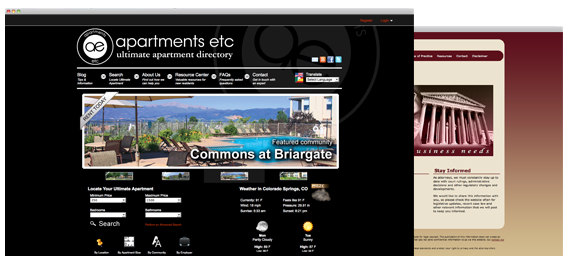 Professional Web Design & Development
Whether your company or organization needs a new website and web presence, or a redesign, restructuring, and upgrade of the current one, My Guy Solutions can help. Building websites is our specialty. Our websites are built with an emphasis on: aesthetic, custom website design; content management; valid CSS/XHTML; cross-browser compatibility; accessibility & usability; and SEO compatibility. We take pride in our work, so when we build your site it has to not only meet your needs, but our own high quality standards.
A professional website is a fine blend of technology and creativity. Taking this observation into consideration, we have poured every ounce of experience and skill into mastering the art of building professional, elegant, and intuitive web designs. My Guy Solutions – web design company aims to enhance the web design of your site in such a way that traffic increases, browses longer and deeper, converts more effectively, and returns often.
Interested in this Service? Request a Proposal – We Would Love to Work With You
SEO friendly design

You'll receive the same tried and true SEO consulting services that our clients with larger websites receive, but at a fraction of the cost. And more than that, you'll obtain substantially more targeted search engine visitors who are looking to buy exactly what you sell.

Standard compliant optimized layouts

Solidified front-end development background by making use of the latest and most impressive new technologies including AJAX and advanced JavaScript as well as standards-compliant, cross-browser-compatible and search-engine-optimized layouts. We are always looking for something new to learn.

Custom Website Design

Our websites are hand coded from scratch using cutting-edge, high-quality design techniques. We look at every requirement of our client as an opportunity which is inimitable and a task which requires a focused approach.

Valid CSS/XHTML

Results in faster load times, easier website-wide updating, and fewer inconsistencies across browsers. Validation is a process of checking your documents against a formal Standard, such as those published by the World Wide Web Consortium (W3C) for HTML and XML-derived Web document types, or by the WapForum for WML, etc. It serves a similar purpose to spell checking.

Cross-Browser Compatible

Nowadays everyone's using a different browser. We debug & optimize for: Internet Explorer 7/8/9 (PC); Firefox, Chrome, Safari (PC/Mac).

Streamlined Design Process

Discovering the real need in the beginning is as good as completing the project. To do this, we listen to you, we study your customers. Planning makes perfect with our streamlined, transparent, and proven design process.

Modern Technology

Our hardware, our software, our design techniques – all current, all cutting-edge, all beneficial to you. We leverages these tools to develop the right experience to meet user and business goals for interfaces ranging from websites to desktop applications, browser plug-ins, mobile applications, kiosks, and touch-screens.

Powerful & Flexible

Manage a simple blog, a corporate website, a social network, and everything in between. We have proven experience working with tools that will help your website succeed.
Interested in this Service? Request a Proposal – We Would Love to Work With You (or… view our portfolio)